The release of Weathersongs Volume One: Days In Wales has attracted a flurry of attention from media in Wales. In the first week since release, Richard has been interviewed on ITV, BBC Wales and Radio Ceredigion.
Tuesday 5th April was particularly busy with Richard giving an interview to Good Morning Wales on BBC Radio
Wales in Aberystwyth at 08:50 and then coming back home to be filmed for ITV's Wales Tonight (seen here with ITV's Rob Shelley). This was followed by a photo for the Cambrian News and, on Wednesday night, an hour chatting and playing some tracks from the album with Steve Edge on Radio Ceredigion.
A half-page article and photo came out in the Cambrian News on Thursday.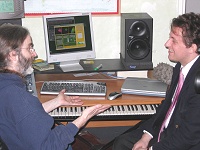 Following this, the first international airplays came in with album tracks being played on Silent Running (Radio ARA, Luxembourg) and RTQE (WORT Madison, WI USA). Online, the project has featured in Rhizome News and elsewhere.