Welcome to Sunday Dance Music, an independent record company based in North Wales UK. The current aim of Sunday Dance is to promote and distribute the music of English composer and musician, Richard Garrett.
Sunday Dance is also home to nwdlbots (pronounced noodlebots), a suite of generative music devices for Ableton Live, available for download on this site.
Richard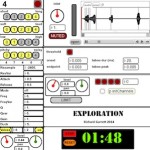 My two pieces using the "Exploration" Max patch will be performed at 2:30 on 27th August 2015 as part of Flute Fest at Bangor University. Ellie Lighton will be playing flute for "Exploration I" and Hephzibah Leafe will play clarinet on "Exploration II". I'm really looking forward to playing the two pieces together!